In your Users page you can create and manage your User, Group leaders and Administrators.
Go to your Kizeo Forms space on the www.kizeoforms.com site.
Go to the My Users under the My administration interface tab.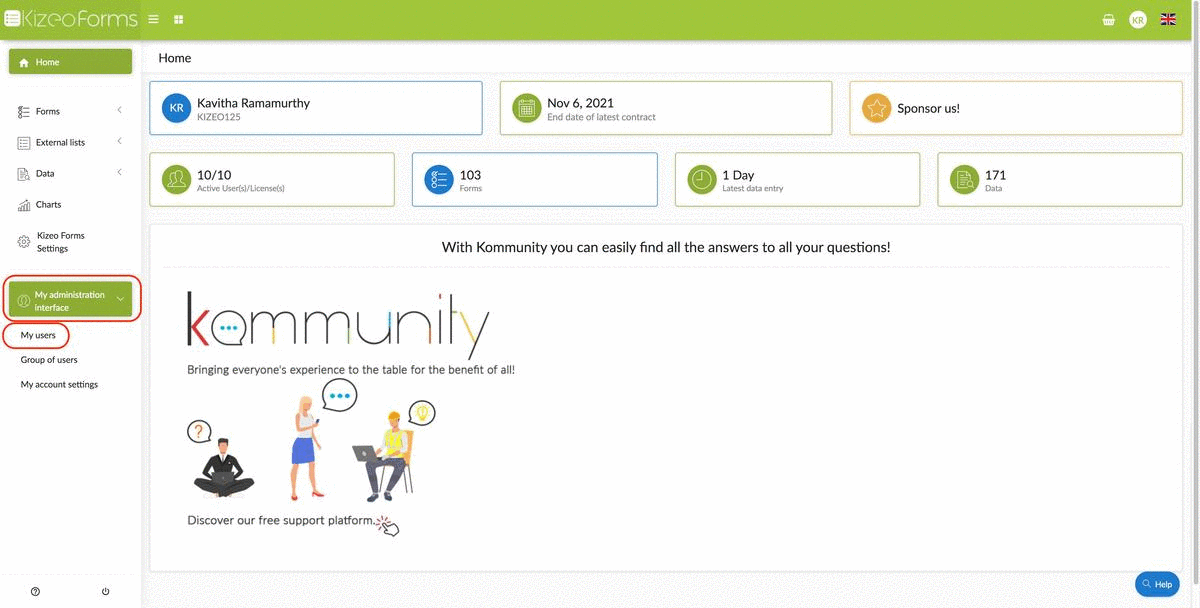 1. General use.
In this first part we will present the bases of this page: display parameters and search.
Define the display parameters.
It's up to you to choose the elements to display in order to facilitate reading or sort on screen. The configuration is done instantly and remains saved for your future visits.
It is possible to define the number of user to display on each page by clicking on the scroll-down menu 'Display 10 elements'. You can choose to display 10, 25, 50 or 100 users.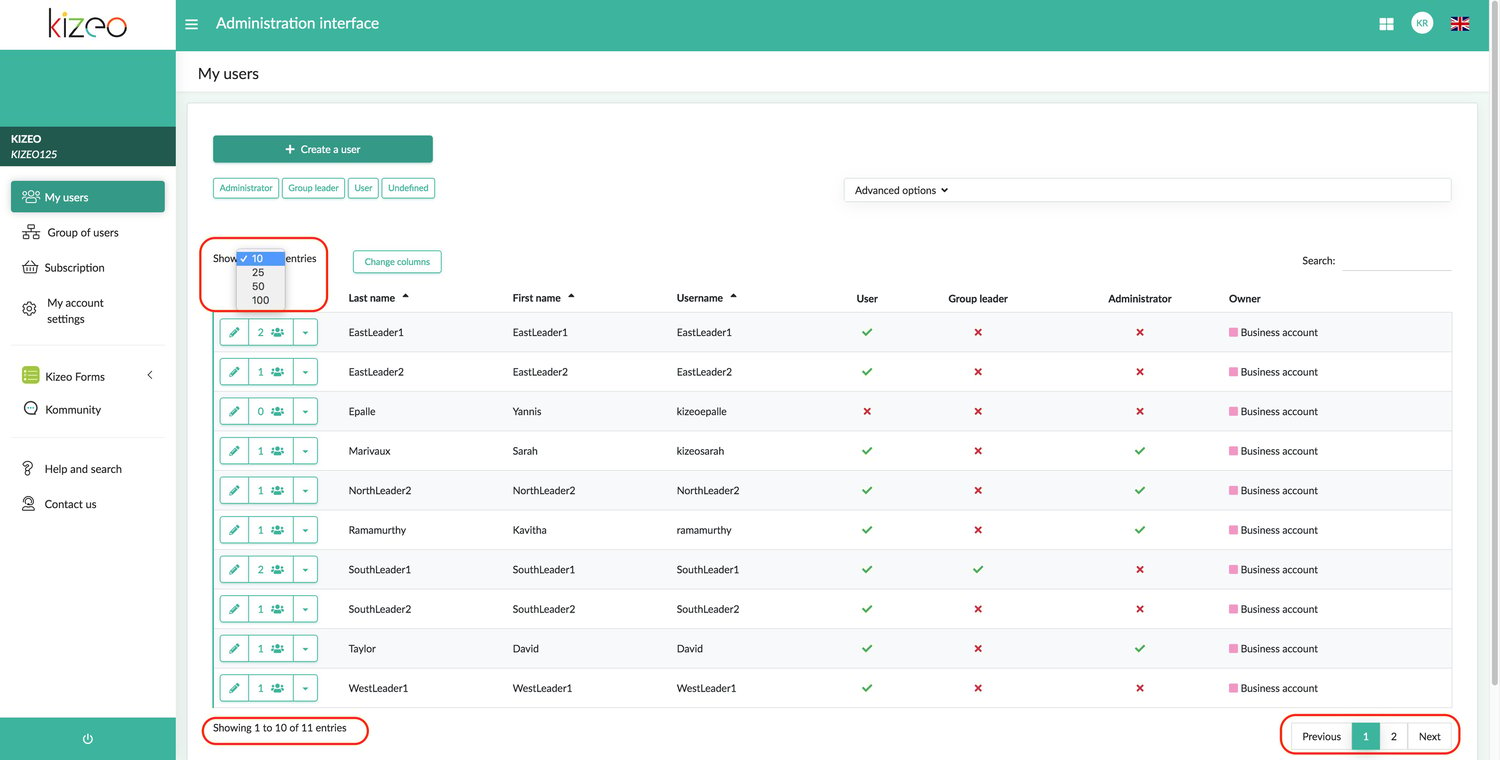 The columns to be displayed in the User page can be modulated using filters. Click on 'Change columns' and tick or uncheck columns to be displayed or not to be displayed. Some columns will help you carry out your reading (example: your customisable user fields).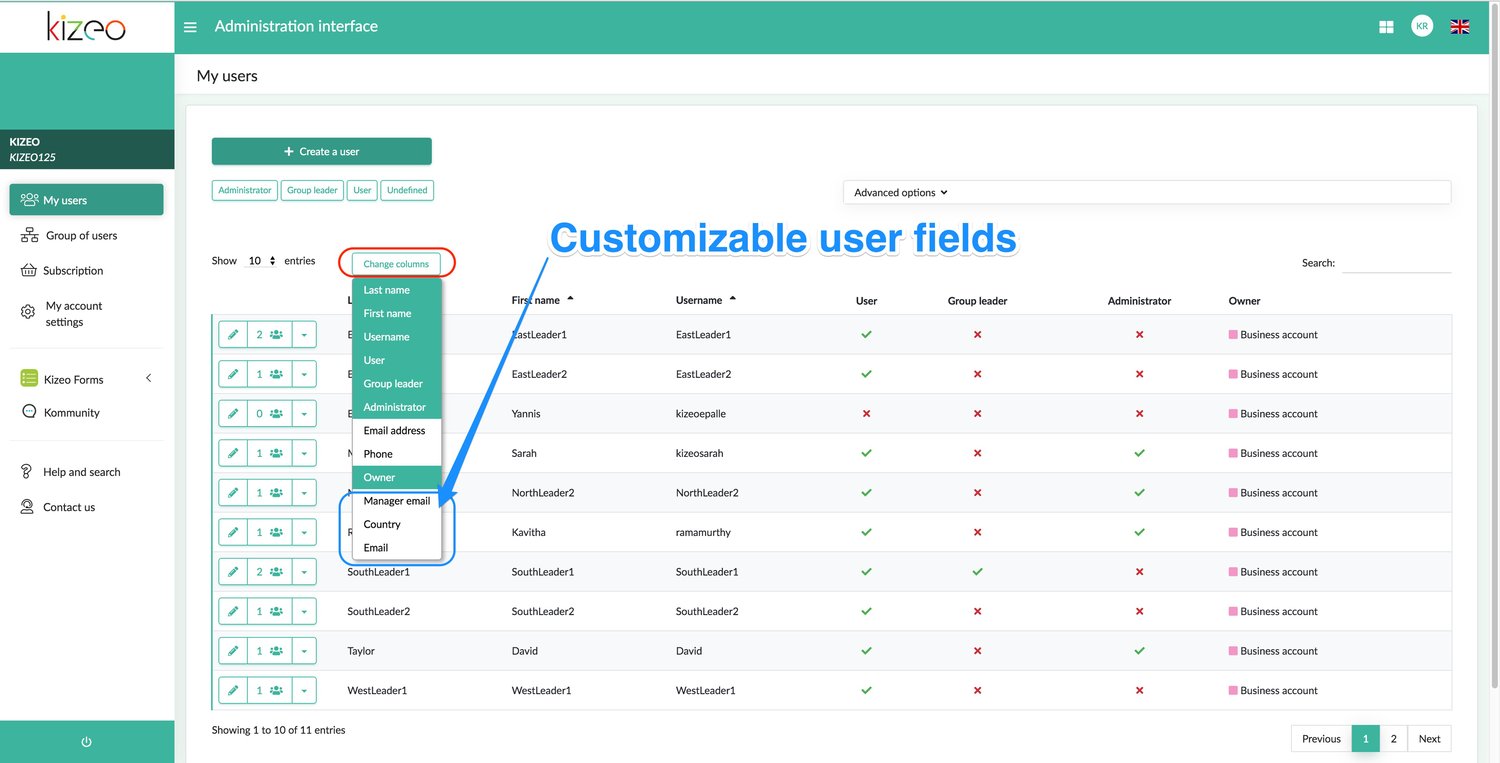 Define the display parameters by « status ».
By clicking on Administrator, Group leader, User and/or Indefinite you can display your users who have, at least, one of theses status. NB: Undefined are inactive/dormant profiles (no user, no administrator, no group leader).

Searching for user.
In the field Search: in this search bar you can type in any item of inf0rmation present in the user profile (the name, e-mail, customisable user fields, phone number etc.).

2. Advanced option:
Advanced options allow you to display your users by selected group(s) of users.
In the search bar, type/select one or more user groups.
You can choose to filter your users by status by selecting Group leader or User.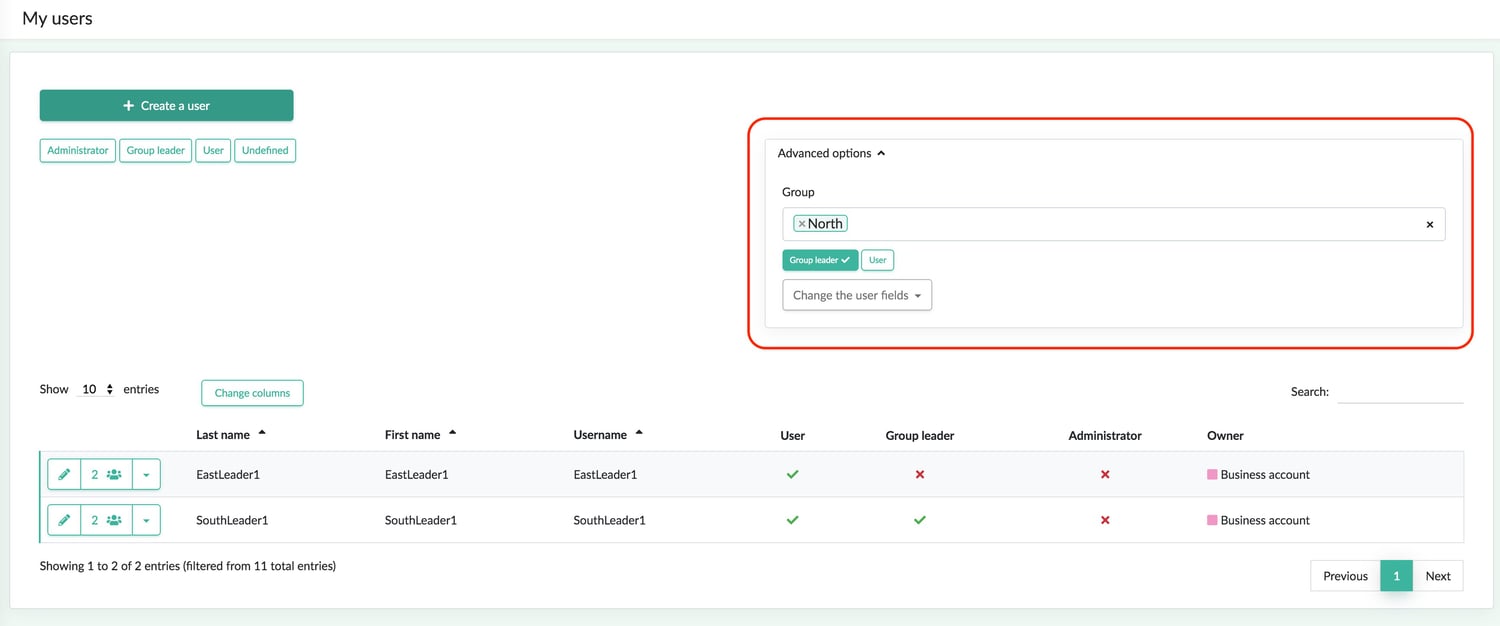 3. Create your user.
Click on Add a user and complete all the available fields.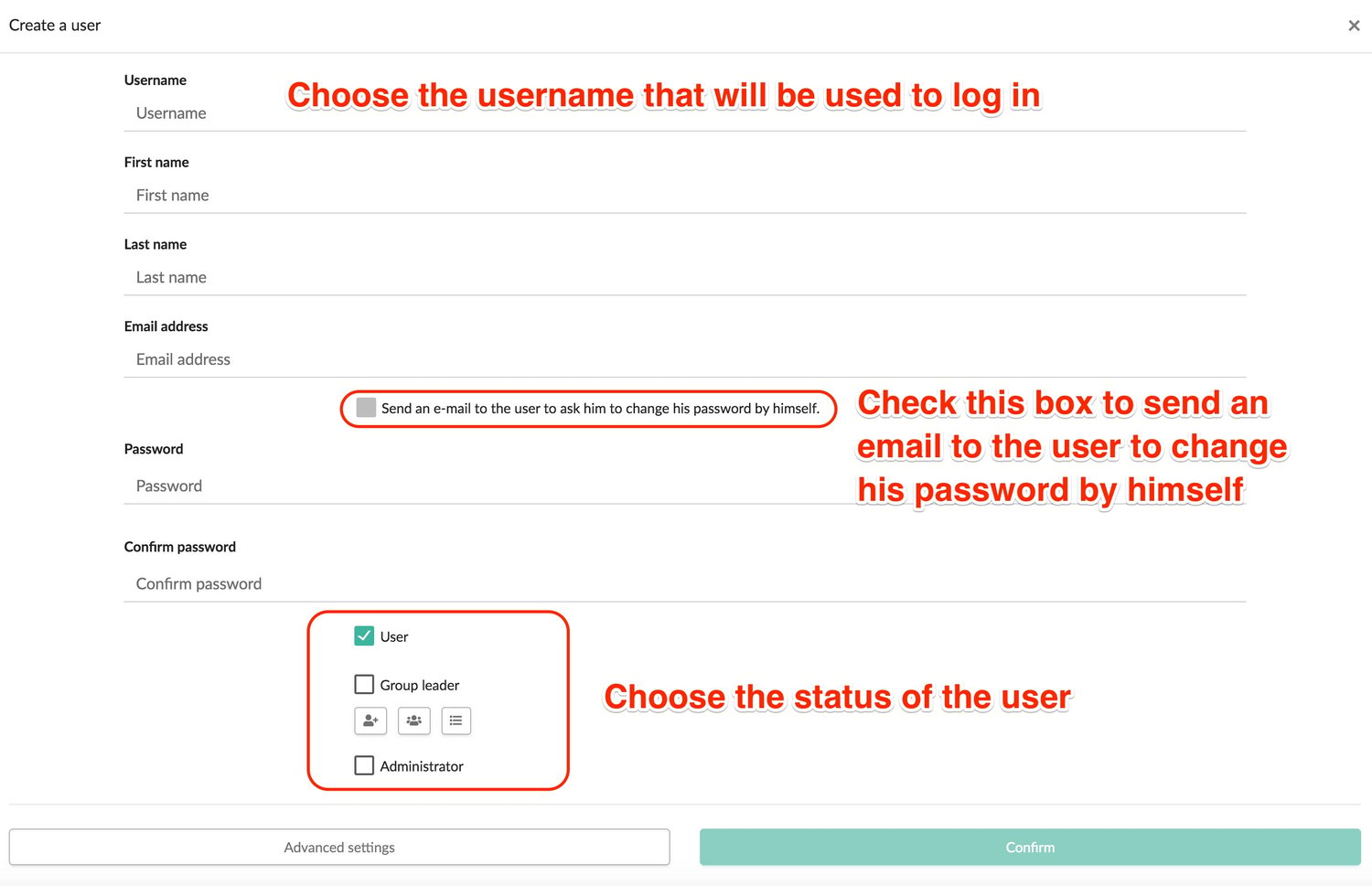 Please refer to the tutorial on how to create or add a user. Remember: there are three levels of users: Administrator, Group leader and User.
Administrator:
Manages the Kizeo Forms account overall:
Can add licence.
May create User and Group leader.
May create forms.
Can recover data.
Group leader:
He is attached to a principal group.
May create or modify forms, users.
May create or modify group leaders and user groups.
Can recover data for their group.
User:
Inputs the data on the Kizeo Forms application, on Smartphone or Tablet, and also through web input.
3.Selecting user and customizable user fields.
This feature is only available for the administrator of the account. You can select one or more of your user to give/modify a customisable user field.
To select one or more user, simply click on them. They will turn blue. To deselect data, click on them again. They will turn white again.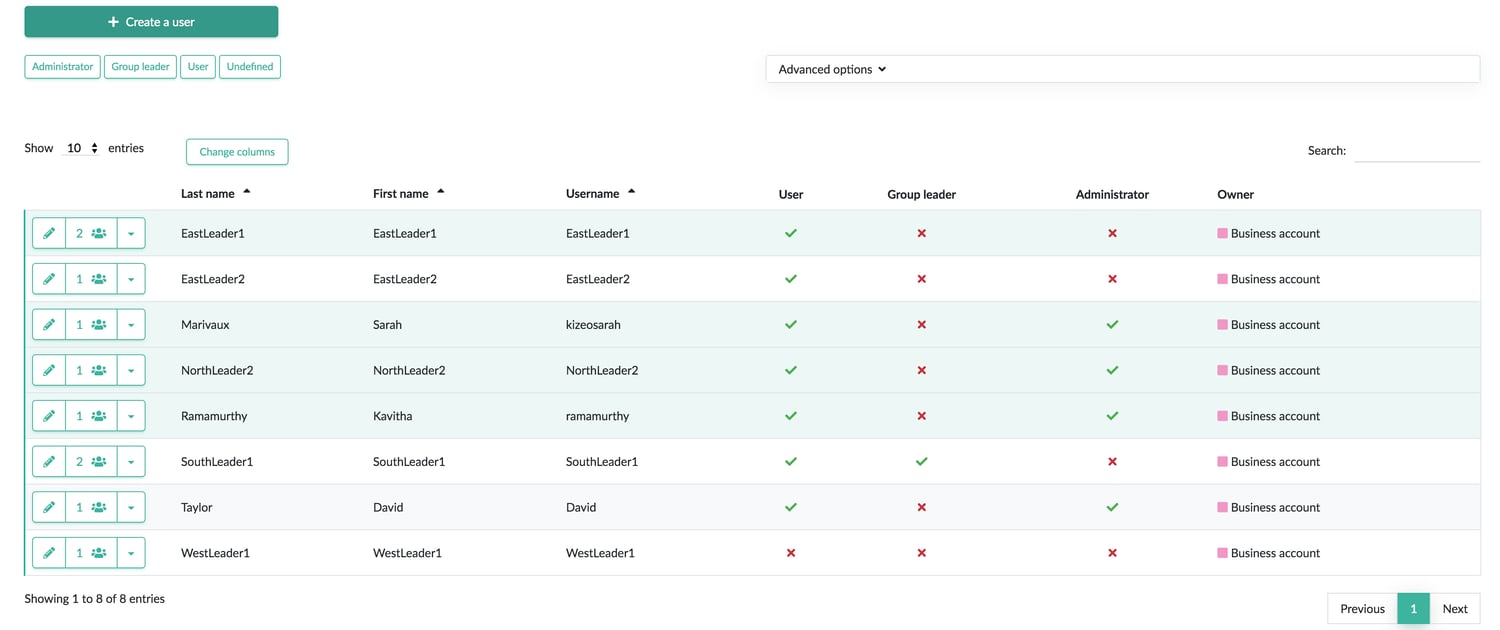 Once it is done, click on 'Change customizable user fields' and select the customizable user fields that you want to give/modify.
In this windows you can type in your customisable user fields.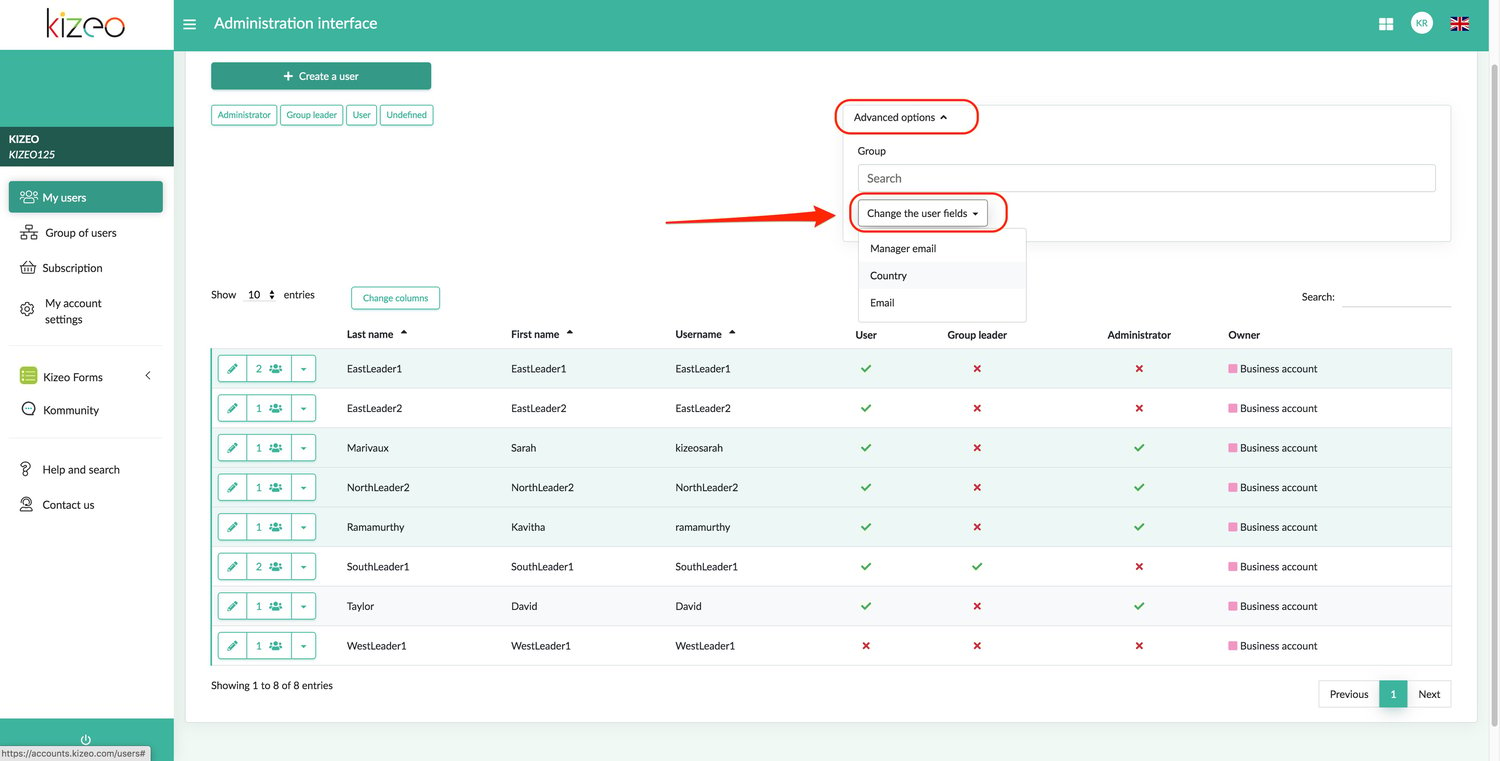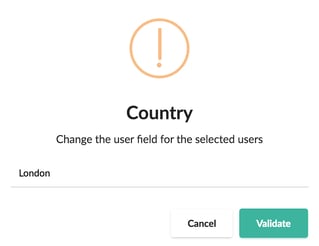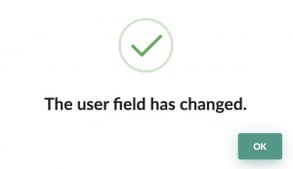 Remember: the customizable user fields allow you to filter your list and play with the visibility of your fields. To create you Customizable user fields, go to Configuration -> Application -> Customizable user fields.